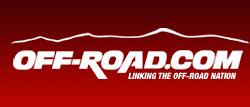 The Nissan Hardbody (D21) pickup was introduced in 1986 as a 1986.5 model, replacing Nissan's venerable 720 Series pickups. It was and still is available in two and four wheel drive variants, extended and regular cabs, short and long beds, and with a 2.4 liter in-line four cylinder engine, or a 3.0 liter fuel injected V-6.
The Hardbody series of trucks was available in many combinations with many different options packages. Because of this, equipment levels, standard engines, and drivetrain components vary widely between them, and will be discussed in greater detail later in the Drivetrain section of this document.
The Nissan Pathfinder (WD21) was introduced in 1987 as Nissan's first foray into the Sport Utility market. It too was (and still is) offered in both two and four wheel drive variants. At that time, the market was still pretty young, and not dominated by families buying them as four wheel drive station wagons. The original Pathfinder series was a two door body style, but in 1990, due to market trends and the U.S. government's "Chicken Tax", the Pathfinder's two door body style was retired in favor of a four door body style.
Also, in 1990 the 3.0 liter V-6's throttle body fuel injection gave way to a more efficient multi-port fuel injection system in both the Pathfinder and Hardbody series trucks.
The Nissan Pathfinder design remained essentially unchanged until model year 1996 when a completely new unibody design replaced it. In 1993, it received cosmetically different front and rear bumpers and for 1994, it received a revamped interior dashboard design in an attempt to make it even more car like in order to meet market demands.
The Nissan Hardbody design has undergone updates on a parallel path, also receiving the new bumpers in 1993 and the new interior in 1994. The Hardbody Design, however is still in production today with even a few more models added to the line-up.
Nissans have been notoriously difficult to find aftermarket support for parts. While the Toyota Pickup and 4-Runner series, as well as the Jeep, and Ford variants seem to be well supported, finding aftermarket "Hop-Up" parts for the Nissan has, well, been akin to pulling teeth! This is not to say that there are not some excellent aftermarket parts available for these series of trucks. It's just that they are harder to find and fewer and further between than say those for a Toyota.
ENGINE:
The
Nissan Hardbody
was introduced in 1986.5 with a standard 2.4 liter in-line four cylinder engine. This is essentially the same engine as was used in the older 720 trucks except a throttle body injection system (Z24i series engine) replaced a computer controlled carburetor (Z24s series engine). However, during the cross-over year, it isn't uncommon to find a 720 with the Z24i throttle body injection engine so there is an outside chance a Hardbody could have a Z24s computer controlled carburetor engine. Subsequent models used a 12 valve multi-port fuel injection system (KA24), and continue to do so to this day. Nissan also offered an SE-V6 version of the truck that used a 3.0 liter V-6 engine with throttle body fuel injection, however, this engine was only available in the King Cab version of the truck and would not be offered in the standard cab models for unknown reasons. Four cylinder engines used adjustable rocker arms while six cylinder engines used low maintenance hydraulic lifters. Both were single over head cam (OHC) designs, actuating the valves via rocker arm assemblies.
The Nissan Pathfinder was also introduced (in 1987) with the same standard 2.4 liter in-line four cylinder engine in its base XE model configuration. The SE model variant carried the same 3.0 liter throttle body injected V-6 that the Hardbody series trucks did.
In 1990 Nissan introduced the multi-port fuel injected version of there 3.0 liter V-6 engine in both the Hardbody and Pathfinder trucks. This, along with the accompanying redesigned intake manifold netted Nissan both horsepower and torque gains, as well as a flatter torque curve for better driveability. The multi-port V-6 also seems to have avoided the trouble the throttle body injected engines have recently been faced with... difficulty passing state mandated emissions tests.
Things to watch for:
Both of the Nissan engines have proven themselves over the years as very reliable, and practically bullet proof... provided their owned takes adequate care of them. They don't ask for a whole lot: clean oil and filter every 3,000 or so miles, clean coolant every couple of years, etc. They will both provide you with many years and miles of reliable service.
I myself am not that familiar with the four cylinder engines used in the Nissan trucks, having very limited experience with them. However, if you are interested in more information on the Z-24 series four cylinder engine, I suggest you check out the "Nissan 720 4wd FAQ File" put together by Dennis Lou....It is an excellent overview of that series truck, and touches on the Z-24 series four cylinder engine used in the last years of that body style Nissan.
The 3.0 liter V-6 on the other hand, I have a good deal of experience with, as I've been taking care of the one in my '89 Pathfinder for the last 140,000 some miles. I've heard this engine described by several a mechanic as virtually bullet proof. Just make sure there is oil in it and it will run and run. I make no claim that this is so, but it does have an excellent track record for being a low maintenance engine. However, like anything mechanical, there are a couple of things that you need to keep an eye on. First and foremost is this engine's timing belt. While not known as a problem spot for failures, it is highly recommended that you change it and its tensioner every 60,000 miles as Nissan requests. It is good insurance. Due to the design of this engine, should it break while running, there is a good chance that valves and pistons are going to come face to face in a rather nasty collision. You want to avoid this VERY costly proposition at all costs! Also, while you are in there, you might want to consider replacing the water pump and the coolant bypass hoses. Though Nissan doesn't call for it, its a good idea. Because of the way the engine is designed, replacement of either of these requires tearing it down as far as you need to change the timing belt, as the water pump bolts and the coolant by pass hoses are hidden behind the timing belt covers. And if you are really into preventative maintenance, replacing (or at least inspecting) the cam seals isn't a bad idea either.
Modifications:
Again, regarding the Z-24 Series four cylinder engines, I suggest referring to Dennis' page on the 720 series pickups as he is more knowledgeable in the area of these engines then I am.
The 3.0 liter V-6 engine is fairly limited in its aftermarket parts applications. The first modification I believe anyone should consider is a replacement air filter from the folks at K&N Engineering (for either engine). Their products come with an excellent warrantee, and although slightly more expensive then a replacement paper element, their oil and gauze element filters flow better. And as an added bonus, it can be cleaned and oiled again and placed back in service. One technical note on K&N filters for off road use. If you play in extremely dusty conditions, coat the inside AND outside of the filter with K&N filter oil. This will increase its ability to trap the fine dust particles. Also, more periodic oiling may be required, as the dust tends to wick the oil out of the gauze. This is important, because a dry filter will not filter as well!!
Borla makes an excellent T-304 stainless steel free flow exhaust for the Nissan Pathfinders that I highly recommend. It is a cat back exhaust that carries a 50 state CARB exemption number, making it legal for use on all vehicles. It also carries a million mile warrantee making it the last cat back system you'll ever have to buy... Not to mention, it sounds Great!
Doug Thorley also makes engine headers for the V-6, depending upon your model year, and transmission type. Most, though not all of Thorley's headers carry CARB exemption numbers making them a 50 state legal upgrades as well. I can not recommend them from personal experience, as I am one of the unlucky ones. He is still waiting on a CARB number for the 1989 Pathfinder V-6 headers, last I checked. I have however heard very good things about his products from fellow wheelers.
Something else to consider should you opt for Header and exhaust system modifications is a space age coating called JET-HOT. Jet-Hot is a ceramic based coating that is extremely heat and corrosion resistant. It is very durable and aesthetically pleasing. It is available in many different colors of finishes including a high polish that resembles chrome plating but is much more durable and doesn't blue. If you are interested in this coating, make sure to order your headers in an non-coated state, otherwise they will have to charge you to remove the coating.
The Nissan Motorsports catalog also has two different grinds of camshafts available for the V-6 engine. One is the European spec. grind that was used in the European versions of the truck. These are .392" lift, 264 Degree duration cams, and are not that much more radical then the stock cams. The other set is ground for Nissan Motorsports by ISKY and is a .425" lift, 256 degree duration cam set. To the best of my knowledge, neither of these cam sets is legal for street use in any state and certainly not in California. That said, also keep in mind, that if you change the cams, you need to replace the hydraulic lifters (set of twelve), an expensive proposition in and of itself.
The Nissan Motorsports catalog also lists a turbo oil pump that is said to increase oil flow volume by 25%. This part, to the best of my knowledge, is simply an OEM pump from a 300ZX turbo, as the catalog lists it as available from any dealer.
Last, but not least, a modification you may want to consider is an ignition system upgrade. Jacobs Electronics manufactures a complete ignition upgrade called the Ultra Team. It consists of an electronic ignition control module, high output coil, and Energy Team ignition wires. I use the system on my truck and I give it a definite thumbs up. Jacobs claims increases in power, mileage, and engine smoothness. I can attest to an increase in mileage (particularly on the highway) and the truck definitely pulls better near stall off road. Check into this one guys; it does what it says.
DRIVETRAIN:
Overview:
The Nissan Hardbody and Pathfinder share essentially the same drivetrain. Four cylinder trucks use different models of axles and transmission than do the V-6's, but the components are shared between Hardbody and Pathfinder. The following is a chart from the Nissan Factory Service Manual (also highly recommended by me), showing the model variants, and the transmission and axles they are equipped with as well as information such as their ring and pinion sizes.
---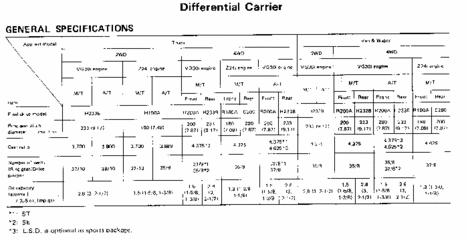 ---
The Hardbodies and Pathfinders that were equipped with Nissan's Sports Packages also featured other upgrades. Both the Hardbody and Pathfinder were fitted with clutch style limited-slip rear differentials that worked very well for such designs. They were also equipped with 31" tires from the factory. To the best of my knowledge this was an industry leading first, beating even Toyota to the mark. And the Pathfinder's sport package also equipped it with rear disc brakes and an adjustable shock absorber system.
The Hardbody was offered with both manual locking hubs and automatic locking hubs, depending on the model selected. All the four cylinder models wore Manual hubs, but the SE-V6 King Cab trucks were equipped with Automatic Locking hubs. Unlike the popular central axle disconnect of today's vehicles, these hubs were true auto locking. They used a ratcheting principle, so that once the axle shaft applied a torque to them, they would lock in engaging the wheels. They also required backing up to unlock them ater removing the transfer case lever from the four wheel drive position. To the best of my knowledge, all Pathfinders came with the auto locking hubs. For those who actually use their vehicle off road, I would recommend a change to the manual hubs, either Nissan's or an aftermarket supplier such as Warn or Superwinch. The auto hubs have some significant limitations when it comes to using the truck off road. First, because of their design, they do not allow for the engine's compression braking to be applied to the front wheels. Also, they disengage when ever you move backward without applying engine power. So if you should become stuck and try to rock yourself free, there is a good chance the hubs are unlocking and then locking back in each time you rock thereby subjecting them to high shock loads. Also, in my experience, they just do not have the durability necessary in the off-road environment. Mine gave up the ghost shortly after I began wheeling (with only about 10,000 miles on the odometer...).
Things to watch for:
Again, the Nissan's drivetrain is quite reliable and durable. Probably the weakest link in the whole drive train is the independent front suspension's constant velocity (CV) joints. Their boots are particularly vulnerable to damage on the trail and from age. These boots serve a very important purpose: keeping the much needed grease bath clean and available for the complex joints inside. Should one of these boots rupture, it needs to be attended to ASAP. Running a CV joint without lubrication will destroy it in as little as 50-100 miles and even if it is not dry, ingested dirt can score the surfaces, and cause unwanted play. Also, these joints not only handle the vertical angles of the suspension movements, but also the horizontal movements of the steering. When on the trail, keep in mind that they are at their weakest when asked to take extreme angles in both of these directions. Such as when the suspension is compressed (or extended) and the wheel turned to its stop. Be careful of loading them heavily with torque or shock loads under these extremes.
A personal problem I encountered but have not heard of from any other Nissan owners regards the transmission oil. When I changed the factory gear oil out at 15,000 miles (Recommended for severe duty operations) and replaced it with the proper grade and weight oil from Castrol, I had problems with the transmission on cold mornings. I am originally from Baltimore, Maryland and when leaving in the morning (temps 40 degrees or so and below), the transmission was very difficult to shift and outright refused to engage second gear when really cold. I switched over to REDLINE synthetic gear oils in the transmission, transfer case and differentials. This all but eliminated the cold shifting problem. I have had good luck with their synthetic lubricants and highly recommend them. They do however, come with a stiff asking price.
Modifications:
Ah, my favorite part. As I had discussed earlier, aftermarket support for the Nissan is somewhat limited, but it does exist. Starting with the differentials, ring and pinion changes can become a problem. The only place Nissan owners can turn for ring and pinions is Nissan Motorsports, and do they come with a high price of admission. About $650.00 an axle last time I checked!! So for those who really need to run big tires, bow to Nissan Motorsports. They are the only ones who can help you!
Traction aiding differentials are another product not well supported for the Nissan. Factory trucks with the Sport Packages on them came with an excellent limited slip unit in the rear axle. If your off-roading is few and far between, I recommend a clutch repack kit when it gets weak and to stay with it. It really can't be beat for the street. For the more hard core four-wheelers, nothing beats a locker. There are a couple of choices here. Tractech produces the Detroit Locker for the rear V-6 differentials. However, there is a catch. It only works with those axles that where equipped with a stock open differential carrier. Those that came with a limited slip unit are out of luck. Lock Right (I believe) also offers a locker for the rear, but the same applies. ARB of Australia to the rescue. They manufacture their Air-Locker manual locking differential for the V-6 (H233B) rear, and the four cylinder (C200) rear. This is an excellent differential with only one drawback I know of: Its expensive.
As far as the front differentials go, we are about out of luck. Nissan Motorsports sells a clutch style limited slip assembly for the V-6 (R200A) front differential, but none for the four cylinders smaller (R180A) front differential. There is however another option. The V-6's front differential (R200A) uses the same carrier and ring and pinion as the four cylinder's C200 rear. A fellow by the Name of John Raider in Texas figured out how to put an ARB air-locker for the C200 rear in the R200A front differential. I've spoken to him and gotten the details on the installation. It's not very difficult at all. I'm going to do it… when I can afford it! He reports no problems with his. He has it installed in his '95 Pathfinder.
Clutches are another area where we are in luck. The folks at Centerforce make clutches for both the four cylinder and V-6 trucks in three different stages: Centerforce I, II and Dual friction. I have had no trouble with the stock clutch in my Pathfinder (despite the abusive slipping it gets when rock crawling) but I've heard great things from others about Centerforce's clutches and plan to install one in my truck when the time comes.
The Hardbody and Pathfinder Trucks came stock with P235/75R15 (Approx. 30" x 9.50) tires on 15 x 6" steel wheels. The SE-V6 trucks equipped with sport packages carried 31" x 10.50 x 15 tires on 15 x 7" aluminum alloy wheels. The Hardbody pickups can get away with running a 32" tire without modification, principally because the body is mounted higher on the frame than it is on the Pathfinders.
BRAKES:
The brake systems on the standard Hardbody and Pathfinder series trucks are virtually identical. They employ twin piston calipers acting on 10.91" front disc brakes and a single piston dual shoe arrangement working on 10" Drums out back. The Hardbodies added a load sensing valve in the rear designed to lighten the braking force of the rear brakes when the truck is lightly loaded.
The Pathfinders that were equipped with the sports package were given 7.84" discs out back gripped by a single piston caliper. Later model Hardbody and Pathfinders (after 1991 I believe) were given electronic rear anti-lock systems.
Things to Watch for:
Not much really. Just the standard maintenance. Keep the master cylinder's fluid reservoir full of clean brake fluid and periodically check the rubber hoses in the system. There are two at the front wheels (one at each wheel) and one at the center of the rear axle. They are vulnerable to damage off-road and also to age deterioration. The front brake pads employ wear indicators as well as the rear pads on the disc brake equipped Pathfinders. The rear shoes of those drum equipped trucks should be checked periodically for wear.
A tip for those with manual transmission trucks: if you don't need the parking brake, don't use it. It will prolong the life of the cable, and require far fewer adjustments to keep it serviceable. Also, do not set the parking brake in extremely cold temperatures, especially if you have been out in wet weather or you will freeze the pads to the rotors and/or drums.
Modifications:
I wouldn't really recommend any modifications to the braking system. There are several different pads available on the aftermarket for these trucks, but I use and recommend factory pads. Those who choose to suspension lift there truck beyond a couple of inches, may be well advised to look into lengthier brake hoses at the front wheels and the rear axle!!!
SUSPENSION:
---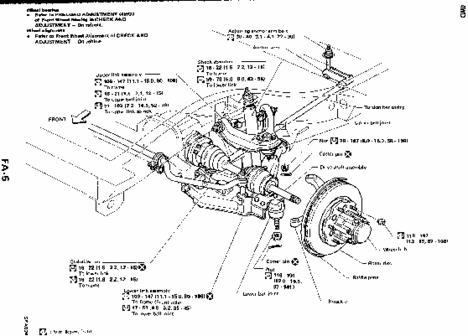 ---
All Hardbodies and Pathfinders use a common independent front suspension (except two wheel drive Hardbodies; they still use an independent front end but of a different design). It consists of an upper A-arm, a lower A-arm, and a torsion bar spring. The lower A-arm uses a compression strut (extending from the rear of the arm to the frame) to make up the rear half of the arm. The torsion bar is connected to the lower arm and runs along the frame rail to a crossmember where it is connected to its tension adjuster, and the adjuster to that crossmember. The front anti-sway bar (or roll bar) is attached to the front portion of the frame and its ends attach to the lower A-arm through small links.
---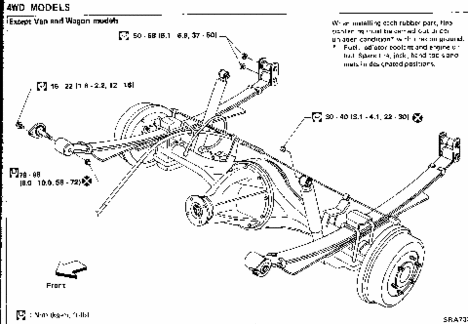 ---
The rear suspension of the Hardbody is rather conventional in design. It employes a typical solid axle design that is suspended by leaf springs. The 2WD models mount the leaf springs under the axle while the 4WD variant mounts the leaf springs on top the axle for the added "lift". The Hardbody's rear axle (to the best of my knowledge) does not use an anti-sway bar.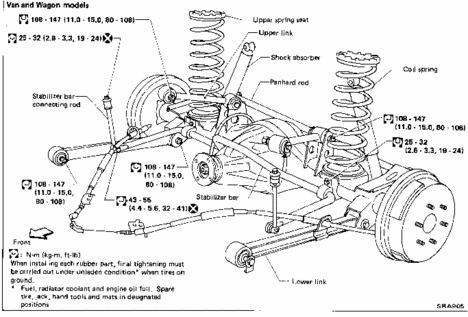 The Pathfinder's rear suspension, on the other hand, was quite unconventional for its day. While the other manufacturers (save Land Rover) were using a standard leaf spring setup derived from their pickups, Nissan went out on a limb creating a "5-Link" coil spring rear suspension. This offered several advantages for the sport utility. The most important being extremely good compliance when compared to a leaf spring set up. This excellent compliance gifted the Pathfinder with a much more supple ride then the other sport utilities of the day. For those of us that like to go off-road, it offered excellent advantages as well. The compliance was very welcome. That combined with the longer travel nature of the coil springs, lead to excellent suspension articulation off-road, and excellent suspension control both on and off road as well. Since coil springs can not "locate" an axle as leaf springs can, Nissan had to design a fairly complex (from an engineering standpoint, the angles of these links as the suspension moves must be precise in order to work properly) system of linkages to locate the axle. This is the design they settled on: two upper links, two lower links, and a horizontal Panhard rod to locate the axle. Then they tossed in an anti-sway bar for good measure. This rear suspension design has much to do with both the Pathfinders excellent on road handling manners (it's been described by many publications as the drivers sport utility), and its excellent off road prowess. Other manufacturers quickly noticed this and the coil sprung rear suspension was adapted on most of today's current crop of sport utes (Toyota, Land Rover, Isuzu, Jeep).
Things to Watch for:
The independent front suspension is very sensitive to modification. It is common to run out of camber adjustment when people try to lift the front end by "twisting" the torsion bars. This is a poor man's lift that causes problems down the line. If you can't afford a suspension kit from a reputable manufacturer, consider a body lift. All of the Nissans soon suffer from front suspension creaking noises as dirt works its way into the rubber bushings of the upper and lower suspension arms. This is normal and all IFS designs suffer from it. Sometimes spraying them down with a liquid lubricant Tri-Flow will quiet them down for a few days, but they'll be back! Also, Nissans (And Toyotas) suffer from an awful sounding (but harmless) metal to metal creak when the front tires are turned tight. This is the steering stops hitting their spot. When the truck is new, it has little nylon caps on the stops to keep them quiet but once they wear through, you'll hear them. It is caused because of the placement of the stops. If you turn the wheel against the stops, and ask the suspension to move, they rub with an accompanying nasty noise. Cheap fix: a glop of grease on the stop!
Also, the stock torsion bars tend to sag with time. There is nothing you can do about this except adjust them as necessary. The only real fix is quality aftermarket heavy duty bars. Nissan Motorsports sell single and two stage bars, and Sway Away Suspensions (SAS) sells the two stage bars I run on my truck.
I'm not aware of any sagging problems with the Hardbody's rear Leafs, but I do know that the Pathfinders sag with age. Again, the only cure is quality aftermarket springs. Nissan Motorsports (again) carries two versions of replacements, one with a 1/2" to 3/4" lift, and the other with a 2" lift.
Modifications:
Oh boy, here we go again! Again, I'm going to start off by saying that our options are limited in this area as well. However, again there are options. All of the major suspension kit manufacturers seem to have a kit for the truck.
Rancho (the system I run) Offers a 2-2.5" lift kit for the Hardbody and Pathfinder. Both front kits are virtually identical. They supply you with an upper A-arm, urethane bushings, and a new pivot shaft assembly that employs braces at the outboard ends for added strength. These arms, combined with new torsion bar adjustments give a realistic 2" of lift while still allowing you to bring the alignment in to specs (though I still have a slight camber problem; custom work time again!). The rear kit is a set of add-a-leafs for the Hardbody and a new set of coil springs for the Pathfinder's rear. Take note that there are two different Pathfinder systems: one for the 2-door trucks and one for the 4-door trucks. The only difference in the kits is the rear springs. I recommend the 4-door kit even if you have a 2-door. I ended up swapping out the 2-door springs for the 4-doors. I didn't get an appreciable amount of lift from the 2-door springs, but the 4-doors worked out perfect! This kit allows for 32" (max) tires on the Pathfinder, and 33" (max) tires on the Hardbody thanks to the latter's higher body mounting position.
SuperLift also has a similar system for about 2"- 2.5" of lift. They use replacement upper A arms (using the factory spindle) with urethane bushings. They use longer shackles or add-a-leafs for the rear.
I'm told Explorer Pro-Comp has a system for these trucks as well (2-3" range) but I have not seen it and therefore can not comment on it. However, I have heard generally good things from Explorer Pro-Comp owners...
TrailMaster produces the largest lift available for these trucks at 4". The TrailMaster approach is completely different, and much more complex though. The front uses a system of drop down brackets and steering knuckle adapters to lower the front differential and lower A-arm assemblies as well as the rear torsion bar mounts. This causes several other caveats. The knuckle adapters require using wheels of greater offset to clear them, therefore mandating aftermarket wheels which will stick out of the wheel wells. Then there is an exhaust system modification that must be purchased from them so the exhaust can clear the now angled front driveshaft. This lift affords no increase in front crossmember clearance without increasing tire size as the other kits do. On the plus side, it retains OEM CV joint angles and suspension droop, although it also puts a new angle in the front driveshaft, one that Nissan didn't count on. Additionally, the rear suspension is lifted by using four inch long coil spring spacers that bolt into the top spring mounts, retaining the factory coils... Good for the ride I suppose, but then still vulnerable to the sagging problem.
Additionally, Nissan Motorsports offers dual shock kits for the front of the Hardbody and Pathfinder, and dual shocks for the Pathfinder's rear Suspension. However, in the words of those in the know - if you need dual shocks, you're driving it too hard!!
BODY:
To the best of my knowledge, there have been no major changes to the body styles of the Hardbody Pickup. In 1993, it received new bumpers front and rear (more rounded off), and a new hood that had a "power bulge" in it, instead of the two embossed lines of the previous trucks. Additionally, in 1994 the Hardbody along with the Pathfinder received an updated interior, mainly consisting of a new, more car-like dashboard.
The Pathfinder remained unchanged until the 1990 model year. That year, the 2-door body style was retired in favor of the 4-door style for a couple of reasons. First, the market for sport utilities was turning them into 4WD family station wagons and families wanted four doors for the kids. Also helping to eliminate the two door version was our wonderful government's "Chicken Tax". Pushed by the American auto giants, the government imposed a 25% Tax on imported trucks in an attempt to help the American manufacturers sell their trucks. This is why the two door sport utility died off and Nissan built their Hardbody in Tennessee.
For 1996, the Pathfinder is a completely different truck built for a different type of driver. Nissan has gone after the family station wagon market big time with this one.
Manufacturers Mentioned:
ARB Corporation Limited
1425 Elliot Avenue West
Seattle, WA 98119
Tel: (206) 284-5906
Fax: (206) 284-6171
Air Locking Differentials
K&N Engineering
PO Box 1329
Riverside, CA 19405
Tel: (714) 684-9762
High Performance Air Filters
Borla Performance Industries
5901 Edison Drive
Oxnard, CA. 93033
Tel: (805) 986-8600
Fax: (805) 986-8999
Performance Exhaust Systems
PowerTrax
245 Fischer Ave., Bldg. B-4
Costa Mesa, CA 92626
Tel: (714) 545-7400
Lock Right Locking Differentials
Midway Industries
PO Box 980
Midway City, CA 92655-0980
Tel: (714) 898-4477
Centerforce Performance Clutches
Nissan Motorsports
PO Box 191
Gardena, CA 90248-0191
Tel: (310) 538-2610
Nissan Performance Parts
Explorer Competition Products
2758 Via Orange Way
Spring Valley, CA 91978
Tel: 1-800-776-0767
Fax: (619) 670-5690
Suspension Lift Kits
Rancho Suspensions
PO Box 5429
Long Beach, CA 90805
Tel: (310) 630-0700
Suspension Lift Kits
Jacobs Electronics
500 North Baird St.
Midland, TX 79701
Tel: 1-800-627-8800
Ignition System Upgrades
Superlift Suspensions
211 Horne Lane
West Monroe, LA 71292
Tel: 1-800-551-4955
Suspension Lift Kits
Jet Hot Coatings
55 East Front Street
Bridgeport, PA 19405
Tel: 1-800-432-3379
High Tech Ceramic Coatings
SuperWinch, Inc.
Winch Drive
Putnam, CT 06260
Tel: 1-800-799-4624
http://www.superwinch.com
Winches, Hubs and Accessories
TracTech
Tel: 1-800-328-3850
Locking Differentials
Trailmaster Suspensions
420 Jay Street
Coldwater, MI 49036
Tel: (517) 278-4011
Suspension Lift Kits
Warn Industries
13270 S.E. Pheasant Ct.
Milwaukie, OR 97222
Tel: (503) 659-8750
Winches, Hubs and Accessories
 
If I missed any, I apologize!